Summer would not be summer without Kulfis
We might have very specific ice cream favourites or go-to desserts to beat the heat – but nothing compares to the good old Kulfi! Especially when it is Bombay Kulfi's secret creamy concoction which is delicately fragrant and frozen to perfection.
Cold stone ice creams, sugar-free desserts, frozen yoghurts, vegan ice creams etc. might have taken over cities by storm, but at Bombay Kulfi – our traditional method with a modern twist gives our contemporaries a run for their money. We deliver both quality and quantity, and are definitely lighter on the pocket!
Our desserts are the right balance of indulgent sweetness and rich creaminess and the right amount of surprise to win you over! Our flavour combinations speak volumes about how much we are open to experimenting with local and seasonal produce.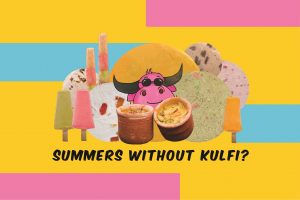 5 Reasons, Why Bombay Kulfi is loved the most?
Bombay Kulfi is consistently known for its quality and we ensure that we dont compromise. Being a natural source of protein, we are 100% vegetarian with only one primary ingredient – 100% pure Milk with only 7-8% fat content in it. Our fresh, pure milk is simmered over a low flame until it is reduced by half. This semi-condensed mix with natural flavours and sweetening is then poured into moulds that are then frozen to perfection. The secret behind our delicious Bombay Kulfi is the right amount of caramelization of milk. The process is time consuming and taxing, but the outcome is definitely worth every bit of it.
2. Using natural & fresh ingredients, we automatically surpass our peers in the health scale. We are among very few brands who plan flavours seasonally and source ingredients locally- thereby ensuring fresh and
delicious flavours which are finger-licking-good! 
3. Unlike popular ice cream brands, Bombay Kulfi is thicker and denser, as it is not whipped. All our ingredients are boiled to half before freezing. This makes sure we have lesser calories and sodium than regular ice creams. One scoop of ice cream has almost 210 calories, whereas 1 Bombay Kulfi hardly has 136 calories. We also boast a lower fat index.
 4. Artificial colour and sugaring are chemicals made from petroleum derivatives and are linked to cancer, allergic reactions and ADHD in children. We, at Bombay Kulfi, take it upon ourselves to ensure your well being by not addiong any artificial colouring or sweeteners.
5. At Bombay Kulfi, we offer over 50 flavours of delicious Kulfis & Natural Ice creams. You can get both traditional flavours and our experimental & exotic flavours in our outlets. All our flavours are designed to Treat to your Taste Buds!
With Summer in full swing, we are all looking for that one dessert that will make us forget all about this scorching heat and indulge for a couple of minutes. Bombay Kulfi's deliciously silky and absolutely flavourful kulfis are loaded with the fragrance of natural saffron and crunchiness of pistachios. What better way to treat your palette this summer than by visiting your nearest Bombay Kulfi outlet and immersing yourself in this delectable goodness!